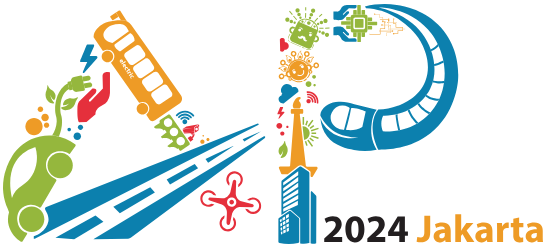 THE 19TH ITS ASIA PACIFIC FORUM
– Transformation Towards a Sustainable and Intelligent Urban Mobility
The ITS Asia Pacific Forum 2024 will be held on 28-30 May 2024 at the Jakarta Convention Center (JCC).
Paper submissions open soon.
As the host of ITS Asia Pacific Forum 2024, ITS Indonesia further encourages the development initiatives and the use of intelligence transport systems. The ITS Asia Pacific Forum 2024 is expected to serve as a significant platform for smart mobility developers and the development of the digital transportation ecosystem.
The event aims to bring together key stakeholders, experts, policymakers, industry leaders, and technology developers to exchange ideas, showcase innovations, and discuss the latest advancements in intelligent transportation systems (ITS) and smart mobility.
The ITS Asia Pacific Forum 2024 aims to support economic growth and better quality of life by solving transport problems of a modal or multi-modal nature through the development and deployment of ITS. The event will feature high-level speakers and participants, renowned both locally and internationally. Private sector and group networking/discussion will be held along with the main event.